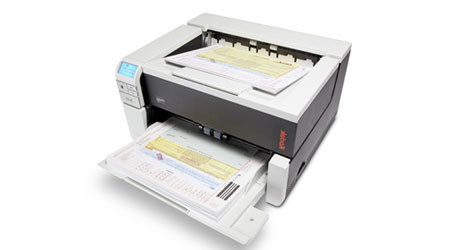 Kodak Scanners
Kodak is a world leader in the Imaging Business and has all range of Production Scanners starting form the Kodak i1120, which can scan 20 pages per minute to Kodak i-780 scanner, which can scan 580 images per minute. On the way of innovation Kodak has introduced the Scan station 100 Scanner. With this scanner in a single scan four outputs are possible like scan to e-mail, scan to folder, scan to print and scan to PDF. The output file formats are like Single page TIFF, Multi-pages TIFF, JPEG & PDF. Kodak has installed more than 4500 scanners all over the India in Manufacturing Industries, BPO's, Banks, and financial institutions. Kairee Systems Pvt. Ltd. is an authorized dealer (reseller) of Kodak scanners.
We are selling scanners all over India focusing Ahmedabad, Bangalore, Chennai, Delhi, Hyderabad, Kolkata, Indore, Jaipur, Mumbai, Nagpur, Pune. Our esteemed clients are MKCL, Ruby Hall Clinic, Bajaj Allianz General Insurance Co, Tata Motors HSBC software and Tranter India Pvt. Ltd., R & D Engineers.
Fujitsu Scanners
Fujitsu today is a dominant market leader in its sales of document scanners, with more than 50% market share worldwide. With a well-known reputation for reliability, and an extensive experience of 18 years, Fujitsu scanners are manufactured to the highest quality standards. Its continuous rigorous efforts in R & D have produced scanners with the latest advanced technology, and this has helped Fujitsu maintain its leadership position in today's competitive environment.
Fujitsu offers the most comprehensive range of document scanners available in the market. With its strong emphasis on reliability, ease of use & efficiency, Fujitsu scanners will produce the best scan possible with little or no human intervention. This results in optimum productivity.
Kodak i6000 Series Check/Cheque Scanners
Kodak has now come with a emerging Product called as Check Scanner which here also it provides Quality in this field .Here the idea behind these products is very innovative where it provides a very good alternative for depositing money in banks When any thing comes in case of money each and everything has to be counted in accuracy. So whatever the Documents to be scanned in case of Money Image Quality is a Top Priority so in which here Kodak check scanners produce high quality Images for accurate Processing.
Here the Check Scanners is basically used to greatly accelerate cash flow in any type of organisation or business. So now we can say the days are gone where processing of money was done through check and waiting for Long hours for the money to be deposited but now through these check scanners it moves the money through speed of sight we can just imagine capturing of check and and fast cash sending the way email has accelerated in all business or organizations .Now here the stage is set for fast transaction only due to Check scanners.